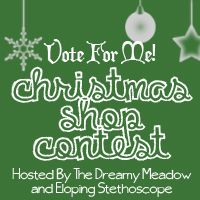 Vote for Squshies! 
The Dreamy Meadows
 and 
Eloping Stethoscopes
 are two awesome blogs that have teamed up to create an awesome giveaway for handmade shop owners.  Of all the shops submitted they picked their top 10 favorites. Now it is up to all the blog readers and shop fans to pick the Top 5! The Top 5 shops win some awesome promotional opportunities  on both blogs for the upcoming holiday season.
If you like the Squshies please vote for them in 
The Dreamy Meadows
 and 
Eloping Stethoscopes
 Christmas Shop Contest!
Now to meet the newest Squshie!
Xelpho, the Red Panda
Xelpho plans to create the world's best soda. One that will appeal to everyone universally, bridge the soda divide, end all debates about which soda is superior. Working as a waitress, Xelpho got fed up with all the complaints about which brand of soda they carried. Everyone tells her it can't be done, but she is determined to find the perfect combination of carbonated water, sugar, caffeine, food coloring, and artificial flavors.
Xelpho is available
here
.